The wedding industry in the United States is estimated to be a $40 billion business annually. Judging by the bling on the fingers of some of Hollywood's most famous actresses, you can understand why pretty quickly. For example, Jennifer Aniston's fiancée Justin Thoreaux recently proposed to her with a $500,000 ring. A pricey piece of jewelry no doubt, but it doesn't hold a candle to some other expensive celebrity stones. As we wave goodbye to summer, and yet another wedding season, let's take a look at the most expensive celebrity engagement rings from recent years.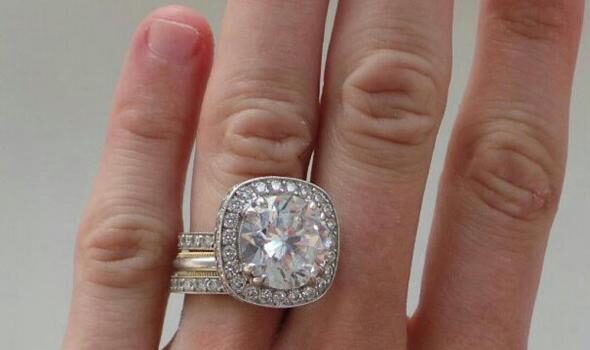 Before starting the list, it's important to note that a ring's size doesn't seem to be closely correlated with its price. Although the sizes of all these rings are quite large, it's oftentimes the details that fetch such astronomical sums. For example, a lot of the rings have famous designers attached to them, like Lorraine Schwartz and Harry Winston. And anyone who has had the pleasure — or maybe the pain — of buying a diamond knows the color and the clarity of the stone also matter. A flawless ring of a special color, canary yellow or pink for example, will cost more than a regular stone. It's also interesting to note out the price of the ring doesn't correlate with the length of the relationship. In a somewhat dubious honor, Ben Affleck and Jennifer Lopez are included on the list twice.
And the Winners Are…
We start our list with country sweetheart and American Idol Carrie Underwood, whose $150,000 yellow-diamond ring from hockey player Mike Fisher is the envy of cowgirls everywhere. Brittany Spears said yes to Jason Trawich thanks in large part to a $200,000 3.5-carat stone from Neil Lane. Kate Hudson's rocker husband Matt Bellamy from Muse dropped $200,000 on a 9-carat diamond ring. Reese Witherspoon is wearing about $250,000 on her finger thanks to husband and CAA agent Jim Toth. The "Brad" portion of Brangelina reportedly spent $250,000 on a custom-designed Robert Procop ring. Supposedly Brad designed the 16-carat flawless emerald for a nearly a year before he proposed.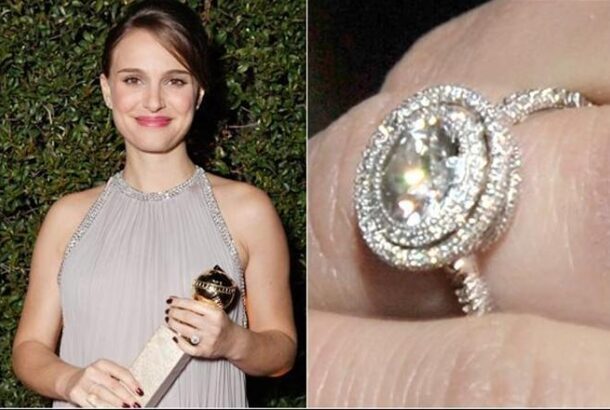 The "Half a Million" Club
One of the controversies on our list is on the finger of Princess Kate Middleton. Some sources say the 18-carat blue sapphire ring, previously worn by Princess Diana, is estimated to be worth $500,000 while another source puts the value nearer to $5 million. Affleck makes his first appearance on the list with the 4.5-carat diamond he gave to Jennifer Garner, worth about $500,000. Khloe Kardishian's 12.5-carat diamond from Lamar Odom rounds out our "under-a-million" group at $850,000.
A Million Plus
Now it's on to the big(gest) bucks. Hillary Duff's fiancée, hockey player Mike Comrie, proposed in Hawaii with a 14-carat diamond reportedly worth $1m. Perhaps the Mikes Comrie and Fisher shop at the same hockey player jewelry store. We can only imagine they didn't get much of a discount.
Marc Anthony gave Lopez an 8.5-carat ring worth $1m. Tom Cruise and Seal both spent $1.5m on engagement rings, the former for 5 carats and the latter for 10 carats. Michael Douglas allegedly spent $2m on a 10-carat ring for Catherine Zeta-Jones. Kris Humphries tried to show Kim Kardashian that his love was everlasting with a $2m, 24-carat ring. Affleck and JLo make their second appearance with their $2.5m engagement ring. Nick Cannon spent $2.5m on the 17-carat pink diamond he bought for Mariah Carey.
Donald Trump's latest marriage cost him at least the $3 million he spent for an engagement ring. Paris Latsis, in the ultimate act of self-adoration, reportedly paid $4.7 for the 24-carat ring he gave to Paris Hilton. And finally, the most expensive celebrity engagement ring belongs to a child of destiny and her big pimpin' beaux: Jay-Z spent an estimated $5m on an 18-carat Lorraine Schwartz diamond set in platinum for Beyonce Knowles.