Sometimes, games designed with complex interface are not as fun as we expect. On the contrary, sometimes, it is the simplest games that bring endless fun. 10, a game, is a good example of how a simple idea can really be rather addictive.
As it is named, 10 is a very simple yet challenging puzzle game. The goal of this game is to put the blocks with numbers in order and together. It sounds very easy but those who have traversed its early stages know that it's not that easy as it sounds.
At the beginning, players will see some flicking tiles. They can level up once they put the tiles in order. In the early stages, solutions are quite simple and obvious since there are only few tiles that need to be handled. Anyway, as usual, things will get more and more challenging after a few levels. In the later levels, more tiles will appear. In addition, there are obstacles of solid tiles which are not removable. Anyway, don't worry. It won't let the players overwhelmed. Things in 10 will be gradually introduced.
Gradually, more tiles are placed on the screen. When you come to the level full of 20 tiles, game starts to be difficult. As for me, I won't be scared or hate the challenge I've met. I will appreciate it instead. By the way, 10 has 140 levels in all. An undo button is available. Players don't need to start over again when they feel helpless. They can go back step by step.
There are no timers or other step restrictions in the game 10. Players just want to level up and beat it and enjoy the sense of achievement. They don't need to purchase props to prolong time or reduce steps. In fact, there are no in-app purchases in the game.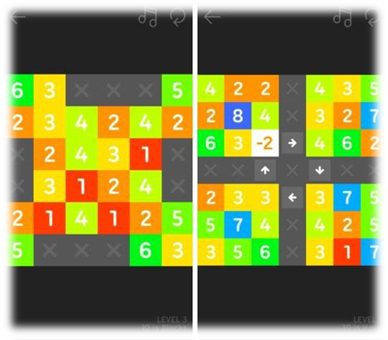 Now, 10 is available in App Store with $0.99. It is compatible with iPhone, iPad and iPod Touch with iOS 4.3 or later.
More Tips for Game Lovers:
If you are game lovers, you must read this tip. Here we are going to share a way of playing downloaded Flash SWF games on various portable devices with you. SWF is not a friendly format, only workable with Flash Player. So, to play SWF games on various portable devices is a great problem. But you can easily solve this problem now with iOrgSoft SWF converter and recorder which is able to convert SWF to different file formats such as SWF to FLV Mac, SWF to MOV, SWF to AVI Mac, MP4 etc as well as record game played process during conversion.